It can be really confusing when you zero down on which guitar to buy as your first decent guitar. Here i have listed down my top 3 favourite beginners/intermediate guitars available in india in 5000-10000 bracket. I have not included Fender FA-100 as its no longer available in india.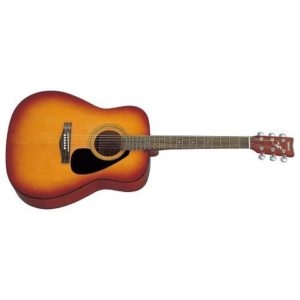 1>Yamaha F310 –
The classic F310 offers the same focus on quality, design and sound as all Yamaha acoustics and puts it in an incredibly affordable package.The guitar is one of the best selling guitars worldwide.With a spruce top and Rosewood fingerboard , this guitar comes with glossy finish in three colors , which are Natural, Tobacco Brown Sunburst and black.The sound is very clear , and when Miced up , offers Very good recording as well. This guitar costs around 8200rs in India .
This guitar recieves a 5 star rating from IndianGuitarSongs.com Team.This guitar is available online from Amazon.in  at around 8200rs from below link.
Buy Yamaha F310, 6-Strings Acoustic Guitar, Natural at discount price
2> Fender Squier SA-105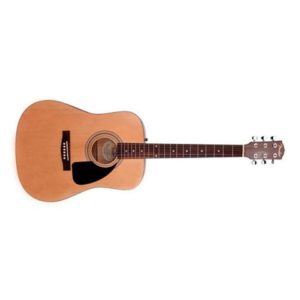 Fender's Squier series of acoustic guitars are ultra-affordable while still retaining the same quality of those expensive guitars.
This guitar comes with a laminated spruce top, and back and sides are laminated nato, also a nato neck and a smooth rosewood fretboard. There are 20 frets on this guitar.
SA-105 has bell like highs and piano like lows with a smooth rosewood fingerboard will give you that amazing feel you expect from an acoustic guitar. The super comfortable C-shaped neck profile along with 20 frets let you reach upto higher frets to nail that guitar solo on an acoustic guitar too. Other great features include quartersawn "X" bracing, black neck and body binding, single-ply black pick guard and chrome tuners. These features alone make this guitar a perfect companion for all your studio recordings and live gigs. The Fender SA-105 from the ever-selling
series of Fender acoustic guitar will sound amazing without any extra EQ.
This guitar is available online  at around 7000rs from below link  . It gets best value for money guitar from IndianGuitarSongs team.
Buy Fender Squier SA-105 Acoustic Guitar, Sunburst at discounted price

3> Epiphone   DR-100
The DR100 has long been our best selling acoustic guitar with the look, sound, and build quality that first time players and professionals expect to find when they pick up an Epiphone. The dreadnought is considered the classic goto shape for bluegrass, folk, rock, country, and everything inbetween. The dreadnought sound is commanding when required, but its balanced sound means that at any volume, you can be heard and hear yourself well, too.
The guitar itself feels very solid to hold , and the bright sound signature complements its sturdy looks.
This guitar is available online from below link at discounted price (around 9000rs)
Buy EPIPHONE DR-100 DREADNOUGHT VINTAGE SUNBURST ACOUSTIC GUITAR WITH GIG BAG at discounted price here